Jennifer Spiegel
The COVID-19 pandemic and the resulting economic downturn has brought about record job losses and the highest number of new unemployment claims since 1982. In mid-March 2020, new unemployment claims nationwide totaled 6.6 million and remained at over 1 million new claims each week for over a year.  The U.S. Department of Labor has estimated that 53 million people have received over $800 billion in unemployment insurance payments. COVID relief legislation passed by Congress has provided states with funds to cover benefits for the record number of newly unemployed people and expedite and secure the unemployment insurance process.  But the experience of the early pandemic also made clear the challenges associated with a quick expansion of benefits.
Maximum unemployment benefits vary greatly from state to state, as displayed in the graph below from fileunemployment.org. States use various taxation and funding formulas to keep their unemployment insurance trust funds solvent. However, during the past year and a half, 18 states borrowed $58 billion from the U.S. Treasury Department to cover the unexpected new unemployment claims. Massachusetts passed emergency legislation to formulate a bond repayment plan for the borrowed Treasury funds. Then, they set up a commission to look at long term solutions for ensuring trust fund solvency for the next recession. Matthew Hartman, Chief of Staff for State Senator Pat Jehlen of Massachusetts (D-2), recommends that the state unemployment insurance trust fund be funded to be able to pay a year of benefits in a moderate economy with its current balance. He stresses that it is important for state legislatures to consider the lessons learned from the pandemic and prepare now for the next recession, ensuring that the unemployment trust fund will be able to provide benefits to vulnerable citizens when they need it most.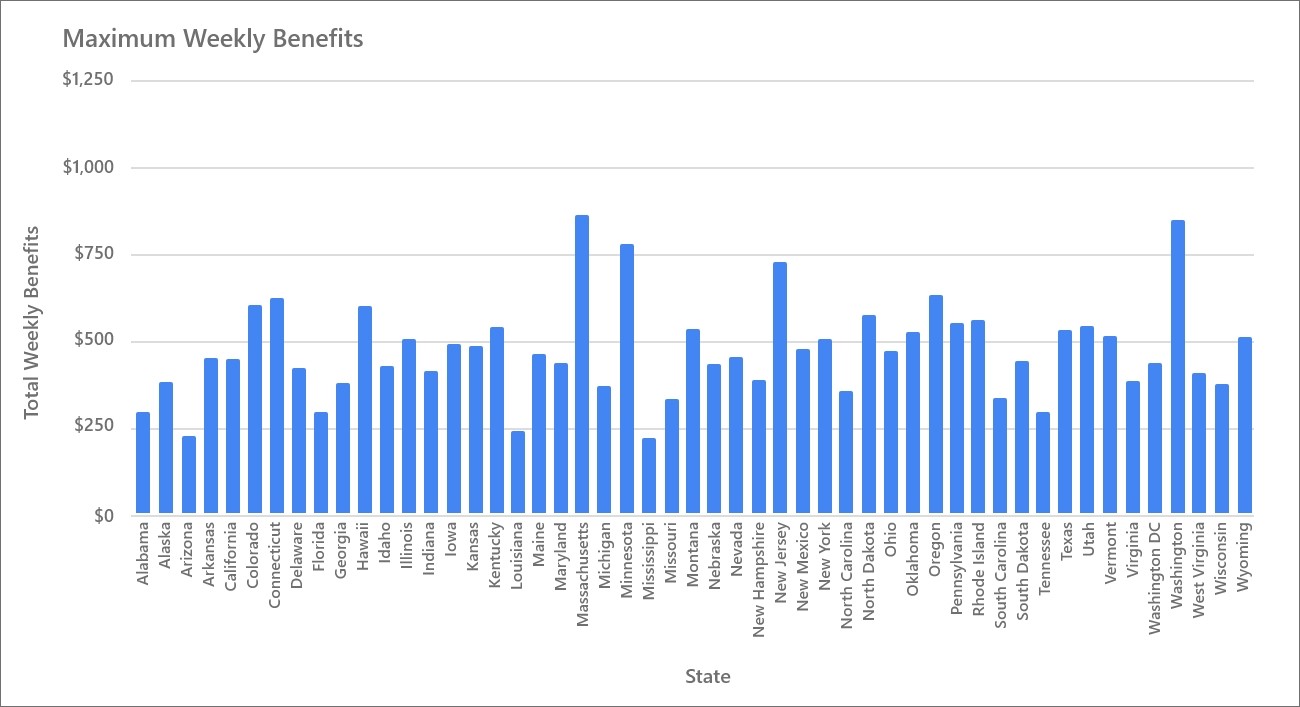 The CARES Act, passed in March 2020, set up three new federal unemployment insurance programs to work in addition to states' regular unemployment insurance, explained in the chart below.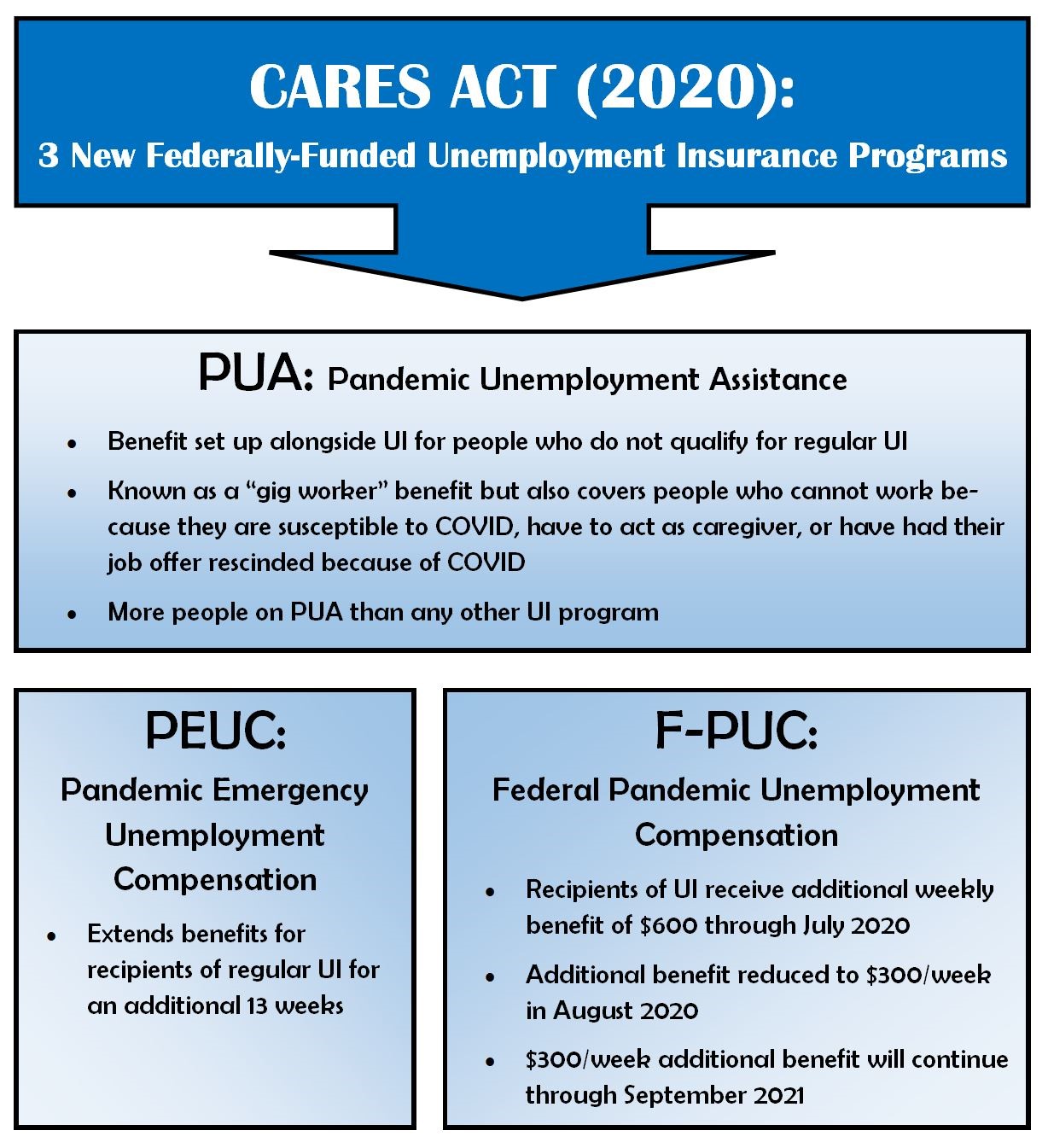 Two main goals of these programs tackled the persistent problems of recipiency – not enough unemployed people are receiving benefits; and under-subsidization – the benefits people did receive did not replace enough of their income. PUA addressed recipiency by benefiting employees who were not previously eligible for regular unemployment insurance. And F-PUEC provided extra benefits to all recipients, addressing the problem of under-subsidization. The impact of these programs was immensely successful in helping those who had lost their jobs obtain the financial support needed to get through this difficult time.
Additionally, another problem that arose in the wake of the implementation of the new unemployment programs was fraud. International criminal rings used prior hacks to gain personal information that could easily be used to apply for unemployment benefits.  Balancing fraud prevention and expeditious provision of benefits is a very difficult task.  Michele Evermore, Senior Advisor at the Department of Labor, explains that "program integrity means giving states the ability to pay the right benefits to the right people at the right time". PUA was based on disaster assistance rules set up by the Stafford Act of 1988 which did not require wage verification or an employer check.  This loophole was abused by fraudsters.  The Continued Assistance Act, passed at the end of 2020, closed this loophole and cracked down on fraud by requiring wage and identity verification. Additionally, the American Rescue Plan has allocated $2 billion to fight unemployment insurance fraud, promote equity, and increase timeliness.
A recent session of the National Conference of State Legislatures Base Camp discussed ways states can expedite efficiency in the implementation of unemployment insurance programs during periods of a recession when new claims skyrocket. The following are lessons learned by State Legislators during this pandemic:
Make sure the technology, the website or app recipients use to apply and manage their benefits, can handle an influx in the system. Make sure the "forgot password" function can be easily accessed by users so they do not have to call the state offices to reset passwords. Include "Help" and "FAQ" sections on the website to reduce call volume.
Make plans for increased staffing needs. Have contract staff on standby and use public staff in neighboring departments to handle call volume.
Make sure the trust fund is solvent so money will not need to be borrowed to cover an increase in new claims.
Set up employer and identity verification procedures to reduce potential fraud.
The following are suggested data sources for up-to-date information on unemployment numbers and trends:
ETA Data Dashboard: https://oui.doleta.gov/unemploy/DataDashboard.asp
NJ Labor Reports: https://www.nj.gov/labor/lpa/reports/datareports_index.html
Century Foundation Data Visualization: https://tcf.org/experts/andrew-stettner/?agreed=1
All of the statistics and other information in this blog post, unless otherwise cited, was obtained from the National Conference of State Legislatures (NCSL) Base Camp 2021 session entitled A Deep Dive into Unemployment Data: Takeaways for States.  The presentation was held on August 5, 2021 and featured Michele Evermore from the U.S. Department of Labor and Matthew Hartman from the Massachusetts State Senate.  More information about unemployment insurance and fraud compiled by NCSL can be found here:
https://www.ncsl.org/research/labor-and-employment/new-ui-page.aspx
https://www.ncsl.org/research/labor-and-employment/unemployment-insurance-improper-payments-and-fraud.aspx
New Jersey's steps to implement the CARES Act's new unemployment insurance programs included providing laptops to state workers to continue serving unemployment insurance recipients remotely, creating eligibility tools to streamline the application process for relief programs, and increasing eligibility for unemployed workers. For a conversation between our PI, Stuart Shapiro, and the Commissioner of the NJ Department of Labor give a listen here: https://anchor.fm/ejbtalks/episodes/The-NJDOL-and-the-Pandemic—The-Commissioner-Speaks-on-Policy–Politics–and-Positive-Change-e11ibit