By William Irving
Data released earlier this month from the U.S. Census Bureau's annual American Community Survey show that New Jersey now tops the list of states with the highest incomes in the country (not including Washington, D.C.). New Jersey's median household income in 2022 was $96,346, 29% higher than the national median of $74,755, surpassing other high-income states such as Maryland, Massachusetts, and Hawaii and topping the list for the first time in at least a decade. Three of the state's 21 counties – Hunterdon, Somerset, and Morris – had among the 15 highest median incomes in the country.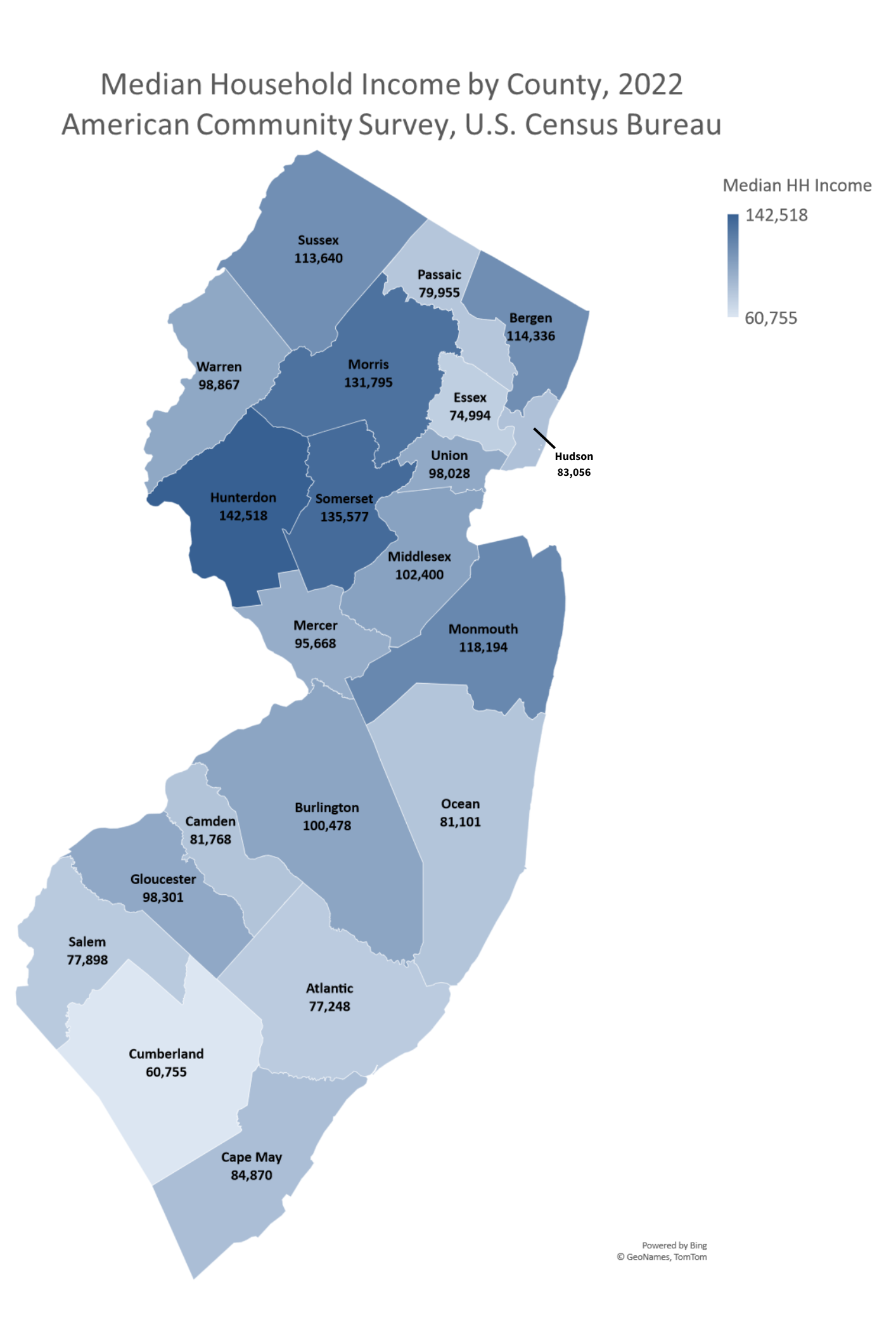 While high incomes can reflect a thriving economy, they often also reflect an environment of higher costs of living that can take a significant bite out of disposable incomes. Key among those costs is housing – the largest monthly expenditure item for most households and families. New Jersey's $2,553 median monthly costs for owner-occupied housing with a mortgage ranked third among the 50 states in 2022, surpassing the national median by nearly 44% even though these costs grew more slowly in New Jersey than nationally from 2019 (pre-pandemic) until last year.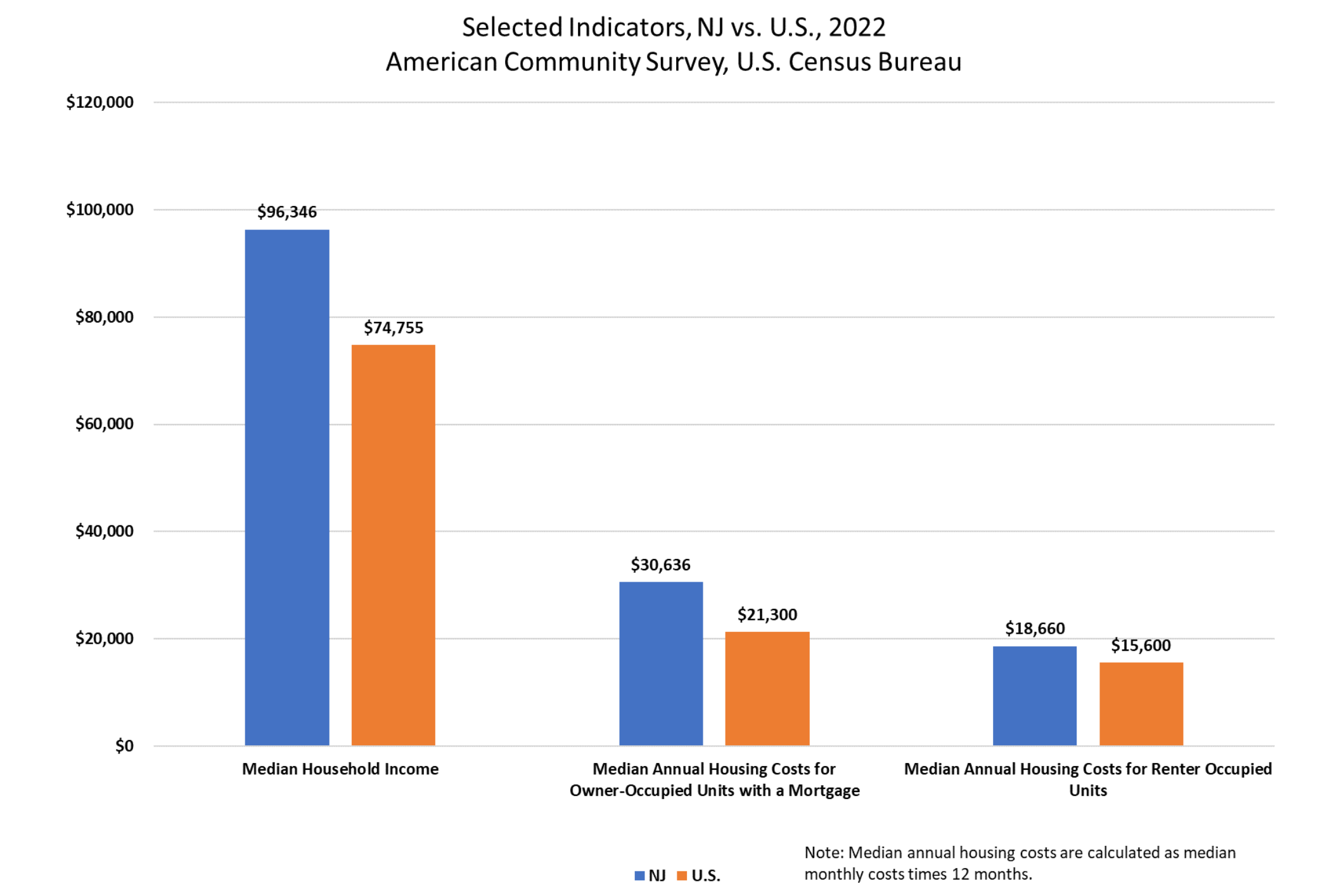 Median gross rent in the state was 20% higher than the national median, with the highest relative rental burdens falling on those in the lower income counties.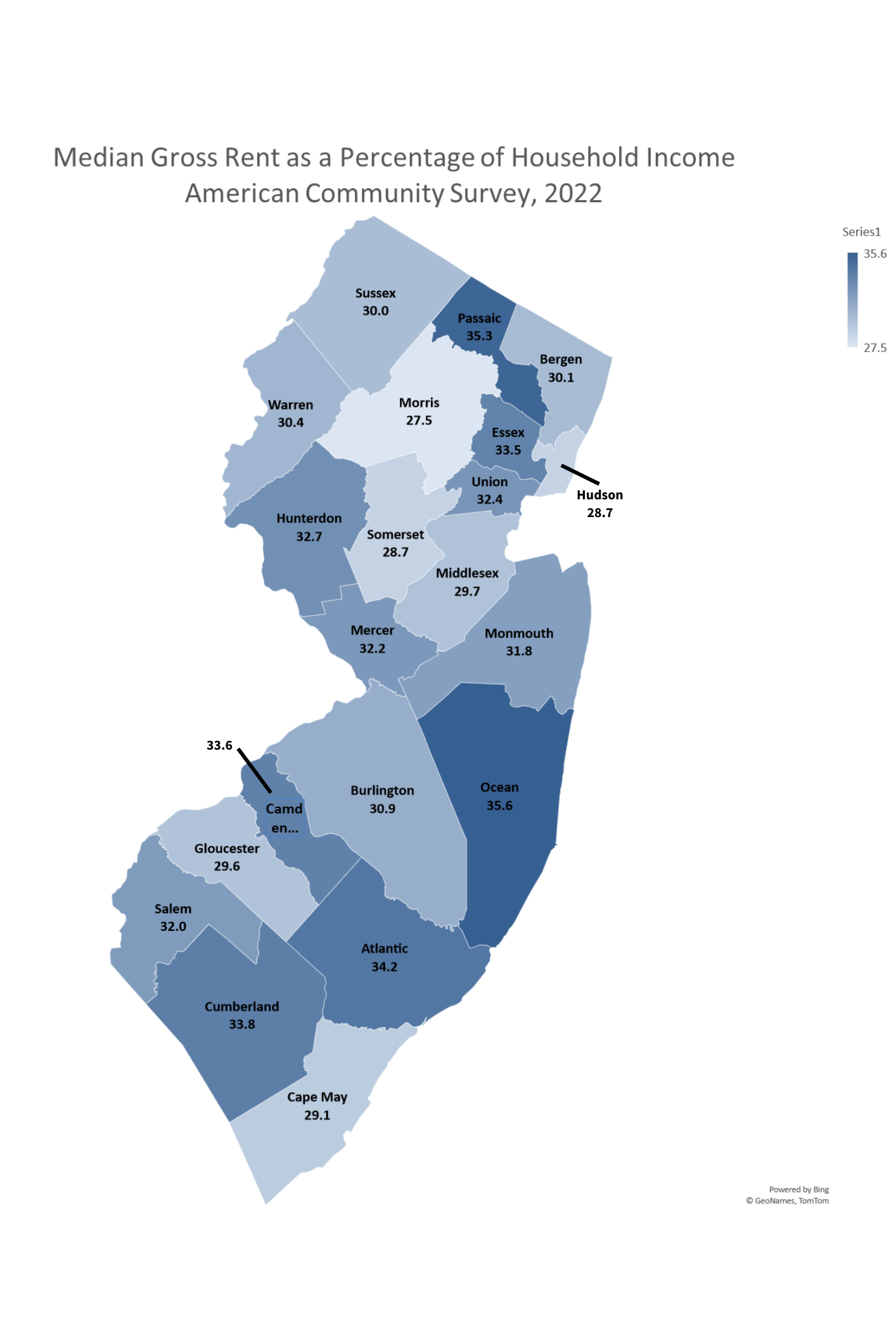 New Jersey ranked sixth in terms of the percentage of homeowners with mortgages spending 30% or more of their household income on monthly housing costs – an improvement from its rank of third in 2021. The State ranked eighth in terms of the percentage of renter-occupied units spending 30% or more of their income on gross rent (rent plus utilities). The federal Department of Housing and Urban Development (HUD) considers renter households with housing cost ratios (rent and utilities as a percentage of income) of over 30% to be "cost-burdened" and those with ratios of over 50% to be "severely cost-burdened."[1] Among households with incomes below $50,000, New Jersey had the third highest percentage (55.1%) of renters paying more than 50% of their income in rent and utilities, a reflection of the state's inadequate stock of affordable housing.

Thus, while New Jersey's high-income levels in part reflect a diverse State economy, with an industry mix and highly educated populace that continue to be attractive to high-paying industries and employers, high housing costs continue to eat into residents' purchasing power and impose heavy burdens on those at the lower end of the income distribution. The release of the most recent ACS Public Use Microdata (PUMS) later this year will allow for more granular analysis of these and other issues.
All data are from U.S. Census Bureau, 2022 American Community Survey 1-Year Estimates.
Reference:
[1] https://www.census.gov/library/stories/2023/03/low-income-renters-spent-larger-share-of-income-on-rent.html.