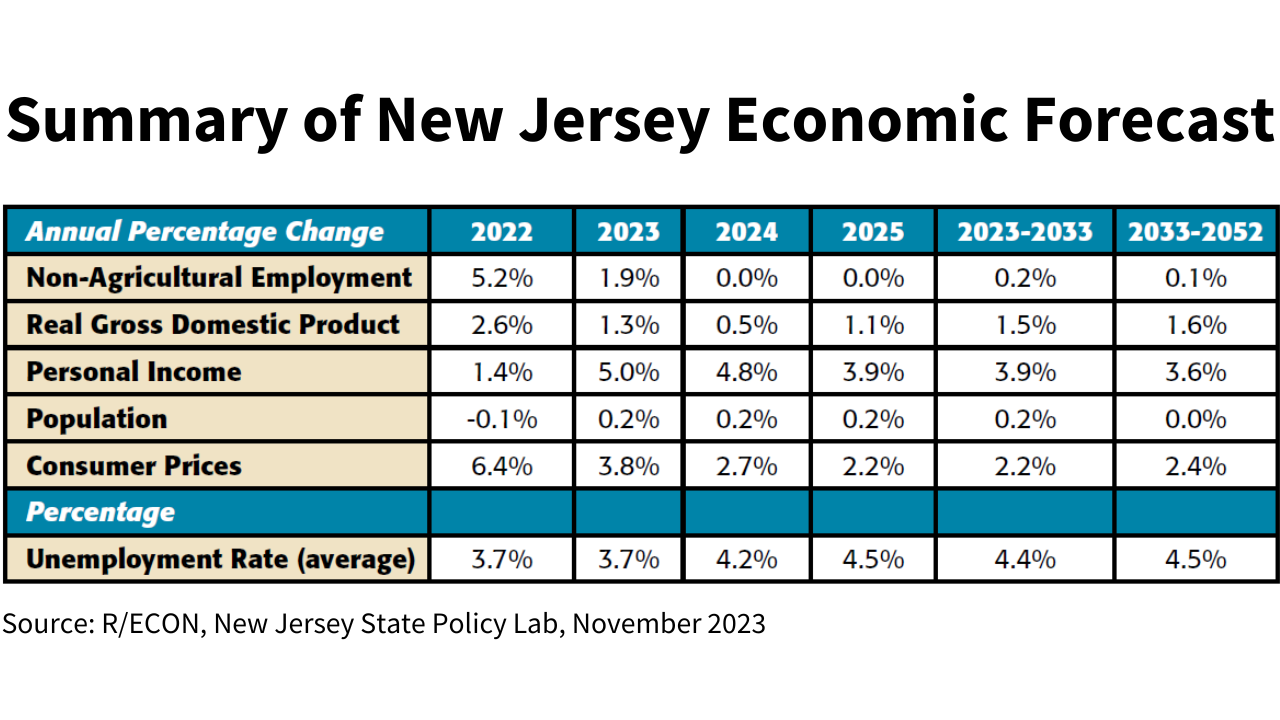 By Will Irving
R/ECON's economic forecast for New Jersey as of November 2023 shows slow or stagnant growth over the next five to six quarters, with GDP recovering to a steady but tepid rate of increase in 2025. This largely mirrors the U.S. trajectory, though at lower growth levels than the national outlook. The State's rising unemployment rate over the past year is expected to translate into stagnant payroll employment levels over the next two years as hiring slows, leaving fewer positions for new labor market entrants.
At the national level, Moody's September forecast calls for moderating but steady GDP growth both in the near and longer term. The strong third quarter real GDP (up 4.9% at an annual rate) recently reported by the U.S. Bureau of Economic Analysis (BEA) brightens the short-term outlook. However, many economists caution that the continuing wave of consumer and business spending, which is driving strong growth despite tightening monetary policy, is likely unsustainable. The September forecast calls for a slight drag on GDP growth caused by a short-lived October government shutdown that did not occur (but still may!) and assumes that the Fed will not raise interest rates further, with inflation cooling to target levels by 2025.
Employment in New Jersey is expected to be essentially flat through the next two years, as saturated labor markets and slow population growth drag on the state's expansion. Population in the state has inched downward over the past two years by about 10,000 people in total, according to the U.S. Census Bureau. This trend is projected to reverse over the next several years. However, state population growth is expected to remain low and to slow again over the longer term to a flat or declining trajectory, constraining economic growth below the national rate. Labor force growth will slow to a still relatively strong 1% next year, contributing to a rising unemployment rate as hiring slows, and will largely track population thereafter, slowing to low or flat growth rates over the longer term.
The R/ECON forecast for New Jersey utilizes the Moody's economy.com national forecast as of September 2023, along with New Jersey quarterly GDP data through Q1 2023, and New Jersey personal income, employment and unemployment data through Q2 2023. The Rutgers Economic Advisory Service (R/ECON) was created with the mission to improve the quality and accessibility of tools for economic forecasting and policy simulation. With the support of the New Jersey Policy Lab, R/ECON employs a comprehensive set of tools to provide accurate and timely assessments of the New Jersey economy.
The R/ECON economic forecast is part of a larger economic report available to subscribers. If your organization would like to subscribe to the full economic forecast report, please contact Will Irving at will.irving@rutgers.edu.