Photo credit © Pinelands Preservation Alliance
By Josephine O'Grady
In New Jersey, 24% of the population has a disability. People with disabilities suffer from a wide range of health disparities, including obesity, heart disease, diabetes, and depression. Through the Inclusive Healthy Communities (IHC) Grant Program, initiatives in New Jersey are underway to help people with disabilities combat these disparities and live inclusive, healthy lives. Research increasingly shows that lack of access to nature and outdoor spaces often present unique barriers for people with disabilities, in addition to the social, environmental, and health challenges this community faces.
The countless physical and mental health benefits of outdoor and nature-based experiences for people with disabilities are well documented.  However, people with disabilities face historic inequities that create overwhelming challenges to their access to these benefits. Challenges can include limitations with transportation, accessible and informative social media, wayfaring websites, signage, accessible parking, and facility services. A cross-sector collaborative effort in New Jersey is focused on advancing systematic changes to ensure access to outdoor and nature-based experiences for people with disabilities. This effort emerged from the Inclusive Healthy Communities program of the state Division of Disability Services (DDS) along with leadership from the Pinelands Preservation Alliance, Duke Farms, and the Rutgers University Bloustein School of Planning and Public Policy, with funding support from the New Jersey State Policy Lab (NJSPL) and the New Jersey Department of Environmental Protection.  Additional partners include Allies in Caring, which facilitates the South Jersey Deaf and Hard of Hearing Coalition, the Family Resource Network, and Stockton University.
We are grateful to the NJSPL for its support that has allowed our team to undertake several efforts to inform initiatives to expand access to outdoor and nature-based experiences for people with disabilities. This has included hosting focus groups for people with disabilities to better understand challenges and needs, researching current provisions in New Jersey state policies, documenting exemplary state policies outside New Jersey, and offering insights on opportunities to expand current policies and programs.
Outdoor Recreation Barriers
The first component of our research has been to better understand specific barriers faced by people with disabilities in New Jersey to access and enjoy the outdoors and nature. Our research team hosted three focus groups among people with disabilities from the Joseph Kohn Training Center, Alliance Center for Independence, and the Progressive Center for Independent Living. These focus groups explored outdoor recreation barriers, trademarks of positive and negative experiences in outdoor spaces, and ideas for improving access and inclusion in outdoor spaces. The responses and feedback from the focus groups were then organized into a research summary authored by Karen Alexander from the Rutgers University Bloustein School.
The primary reasons why participants enjoy outdoor spaces are the fresh air, seeing wildlife, feelings of peacefulness, and spending time with family or friends. The main outdoor spaces that participants frequent are local green spaces or parks in their community because those are the resources most easily accessible, often by foot. Participants communicated interest and enjoyment in parks that are further away but cited issues spanning transportation limitations, inaccurate or unclear information on park websites, and difficulty contacting park/staff personnel. By providing detailed information about the characteristics of the outdoor space, the site becomes that much more accessible because the information empowers people with disabilities to independently plan the logistics of a potential visit.  Participants would like to know these characteristics of outdoor spaces:
Is the outdoor site in the vicinity of public transportation pick-up/drop-off, such as Access Link?
Does the outdoor site have accessible restrooms and other facilities?
Are the various features of the outdoor site accessible? How spaced out are the facilities from each other (the distance from the parking lot to the walking trail, from the walking trail to the restroom, or other features?)
Does the outdoor site have designated personnel to answer questions and/or assist with accessibility?
Despite the nature of a person's disability (i.e., mobility, blind or visually impaired, etc.), focus group participants often noted that providing clear information about accessibility is as important as the accessibility accommodation itself. Detailed information about accessibility increases accessibility and inclusive practices in outdoor spaces.
State Policy Examples
A second research summary, authored by research assistant Josephine O'Grady, reviews recent federal outdoor recreation policies to understand the context of various state policies by surveying examples from twelve states (Alaska, California, Washington, Oregon, Utah, Colorado, Michigan, Minnesota, Virginia, Florida, Puerto Rico, and Massachusetts). This review points to five best practices for state policies that can increase access to outdoor spaces for people with disabilities.
Balance organized versus passive access
Ideally, states must balance policies that increase organized access with passive access to outdoor spaces. Organized access refers to the accessibility of structured outdoor recreation programming, such as adaptive kayaking, sailing, fishing, or hiking. Meanwhile, passive access refers to the accessibility of self-directed outdoor opportunities, such as strategies that make it easier for people with disabilities to independently access and enjoy an outdoor activity.
Preservation of natural resources
Successful strategies to increase outdoor access often link outdoor access with an environmental conservation project, which develops a broader community of outdoor visitors who are included in environmental stewardship.
Investing in strategies that transcend multiple social barriers
People with disabilities often face additional social barriers that exacerbate access to outdoor and nature-based experiences. For example, low-income households and communities of color have historically had less access to neighborhood parks and outdoor spaces.
Direct engagement of people with disabilities
Ongoing direct engagement of people with disabilities is an effective way to consider accessibility needs while increasing inclusive practices in outdoor recreation and planning decisions (e.g., surveys, focus groups, and planning committee representatives).
Figure 1. Agency Methods for Engaging Communities in Parks/Recreation Planning, NRPA, 2017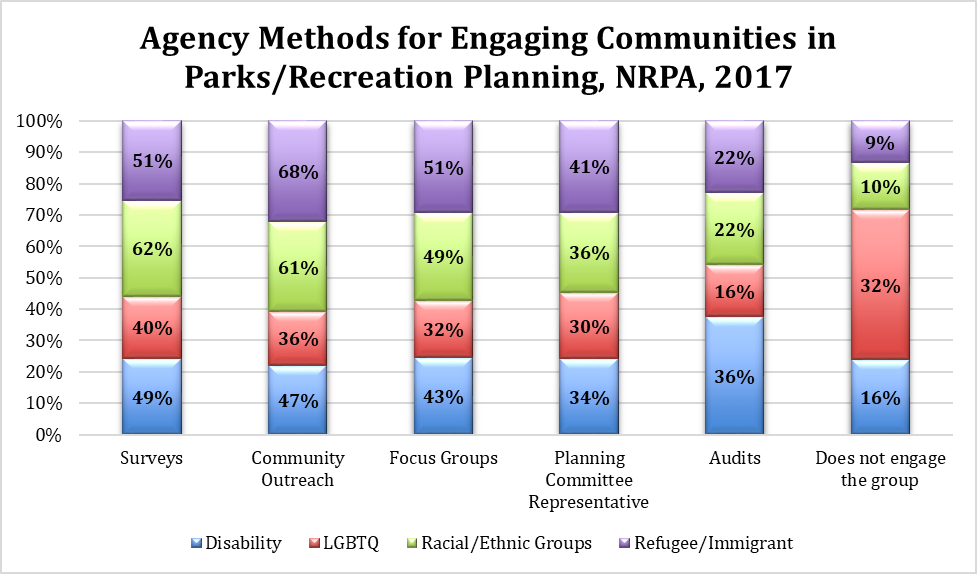 Alt text: Stacked bar chart displaying outdoor recreation agencies' methods to engage underserved groups in parks/recreation planning. The agency methods, listed on the x-axis, are surveys, community outreach, focus groups, planning committee representatives, and audits. The underserved groups, listed using a color legend, are people from the following communities: disability, LGBTQ, racial/ethnic, and refugee/immigrant. The top methods for engaging people with disabilities are surveys (49%), community outreach (47%), and focus groups (43%). Parks and Recreation Inclusion Report | Research | National Recreation and Park Association. (2017). Retrieved June 4, 2023, from https://www.nrpa.org/publications-research/research-papers/parks-and-recreation-inclusion-report/
Use of data on outdoor recreation use trends to inform projects
Since needs vary widely based on type of disability and by other social vulnerability factors, it is essential for states to use data to design outdoor recreation access initiatives. Data helps policymakers understand (1) outdoor recreation participation patterns, (2) factors that impact the frequency of outdoor recreation participation, and (3) demographic information about underserved communities.
Challenges and Opportunities in New Jersey
Having considered emerging initiatives in areas outside of New Jersey, our research team explored the challenges and opportunities for New Jersey policymakers to address this topic. Finally, in two white papers we research 1) regulatory challenges to designing accessible outdoor spaces and 2) opportunities for New Jersey to continue increasing outdoor access through current state programs and policies. These white papers are authored by Carleton Montgomery and Sean Kane-Holland, respectively, from the Pinelands Preservation Alliance.
The first white paper explores five sets of environmental regulations that present regulatory challenges in designing accessible outdoor trails: the Freshwater Wetlands Protection Act, Flood Hazard Regulations, Coastal Zone Management Rules, Pinelands Comprehensive Management Plan, and the Highlands Water Protection and Planning Act Regulations. Collectively, outdoor trails are subject to protocols to minimize the negative impacts of outdoor recreation on the biodiversity, land degradation, and conservation of public lands. While environmental regulations do not definitively prevent the implementation of accessible trails, they also do not provide specific recommendations or information to advise stakeholders on the creation of accessible trails. Consequently, certain environmental planning regulations may–in practice–discourage accessibility considerations in outdoor areas of New Jersey.
Fortunately, the second white paper explores current programs and policies in New Jersey which present viable opportunities to directly encourage outdoor recreation by people with disabilities. The New Jersey Department of Environmental Protection's Green Acres program aids local governments and nonprofit organizations to develop parks and outdoor recreation facilities. Additionally, the NJDEP's Outside, Together initiative, New Jersey's current Statewide Comprehensive Outdoor Recreation Plan (SCORP) has goals to expand recreational access among underserved communities and further equity through outdoor recreation. Finally, through Jake's Law, the state Department of Community Affairs must support the development of inclusive playgrounds for people with disabilities. Collectively, these initiatives push emerging goals of expanding outdoor access and better considering traditionally excluded communities.
Future Directions
With support from the NJSPL and the New Jersey Departments of Human Services and Environmental Protection, we have taken a deep dive into opportunities to expand access to outdoor and nature-based experiences for people with disabilities in New Jersey. These four public papers authored by this research team are readily available to read and download here. Further, these papers will be the core read-ahead materials for a convening at Duke Farms in Fall 2023 that will focus on building an agenda forward in New Jersey.
Josephine O'Grady is a graduate student at the Edward J. Bloustein School of Planning and Public Policy. She serves as a research assistant with the Environmental Analysis and Communications Group and teaching assistant for the New Jersey State Policy Lab.